Seven Ways to Cut Costs on Injection Molded Parts
With injection molding, a variety of factors affect a part's final cost, including part design, production time, the temperature and pressure used, and the type of plastic resin chosen. However, there are bigger issues to consider long before your part is in the mold. Following some industry best practices will go a long way toward minimizing your part costs without compromising your design goals.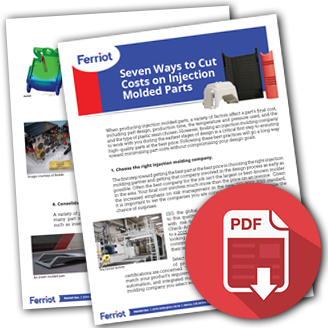 Our experts put these secrets into a guide, "Seven Ways to Cut Costs on Injected Molded Parts." It addresses specific ways you can trim costs as you embark on your next custom injection molding project:
Manufacturability and part design
Selecting the right resin
The use of simulation software
Part tolerances and product life cycle
Consolidating process steps
Complete the form on this page to download this helpful tip sheet.